Greg Veralrud, Oregon Personal Injury Attorney
Mr. Veralrud received his law degree from the University of Oregon in 1978. The law firm, in its present form, is the successor firm to one of Western Oregon's finest, most established law firms. The firm was started in 1965 by former Lane County District Attorney William F. Frye. Since Mr. Frye's death in 1988, Mr. Veralrud has headed the firm. The law firm provides expert and highly personalized legal services in personal injury and criminal defense.
Mr. Veralrud became a partner in the firm in 1981, following his service as a Felony Deputy with the Lane County District Attorney's Office from 1978 to 1981. He is a member of the Oregon State Bar and is admitted to practice in all State and Federal Courts of Oregon, the Ninth Circuit Court of Appeals and the United States Supreme Court.
Mr. Veralrud has served as president of the Oregon Criminal Defense Lawyers Association (1984-1986); as a Trial Practice Instructor for the University Oregon Law School (1984, 86, 88, 90, 92, 94, 99); as Chair of the Lane County Bar Association, Judicial Administration Committee (1995-1996) and the District Court Committee (1989); as Chair of the Board of Directors, Public Defender Services of Lane County (1995-1999), and as a Member of the House of Delegates, Oregon State Bar (1996-1998). He is a Member of the Oregon Trial Lawyers Association and the Oregon Criminal Defense Lawyers Association. 
He has been "A" rated through the Martindale-Hubbell Law Directory, the most respected attorney referral and information directory in the United States. This rating is from other lawyers and judges in the area. At the time Mr. Veralrud initially received his "A" rating, he was the youngest lawyer in the area to achieve it. An "A" rating is held by less than 5% of practicing attorneys in the area.
$1.4 million wrongful death settlement (traffic accident)

$925,000 aviation accident

$1.75 million police misconduct

$425,000 dog bite injury

$225,000 dog bite injury
$1.1 million sexual abuse by church employee

$500,000 police misconduct/violation of civil rights

$500,000 accidental gun shot wounding
Swipe Left or Right for More Info
<       >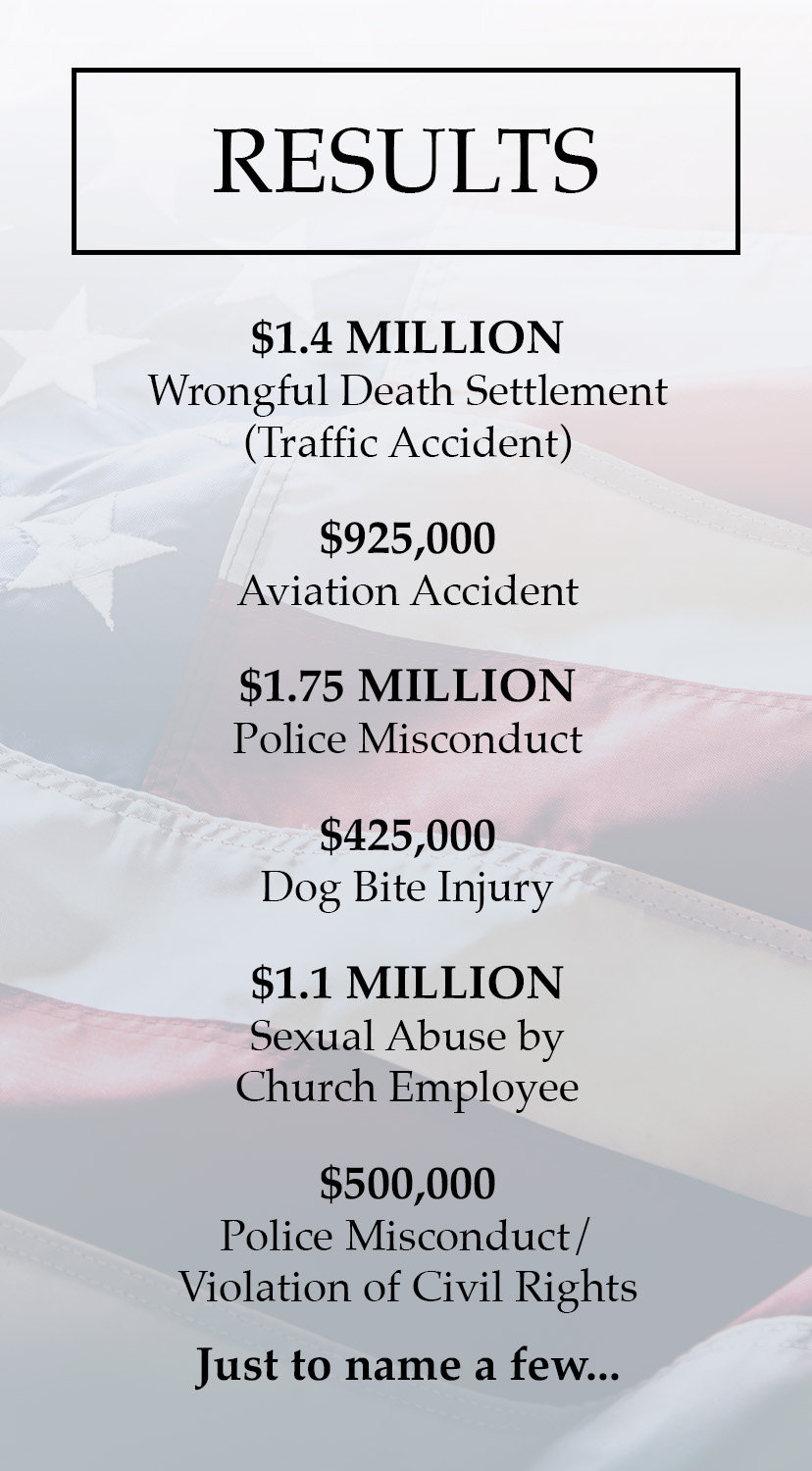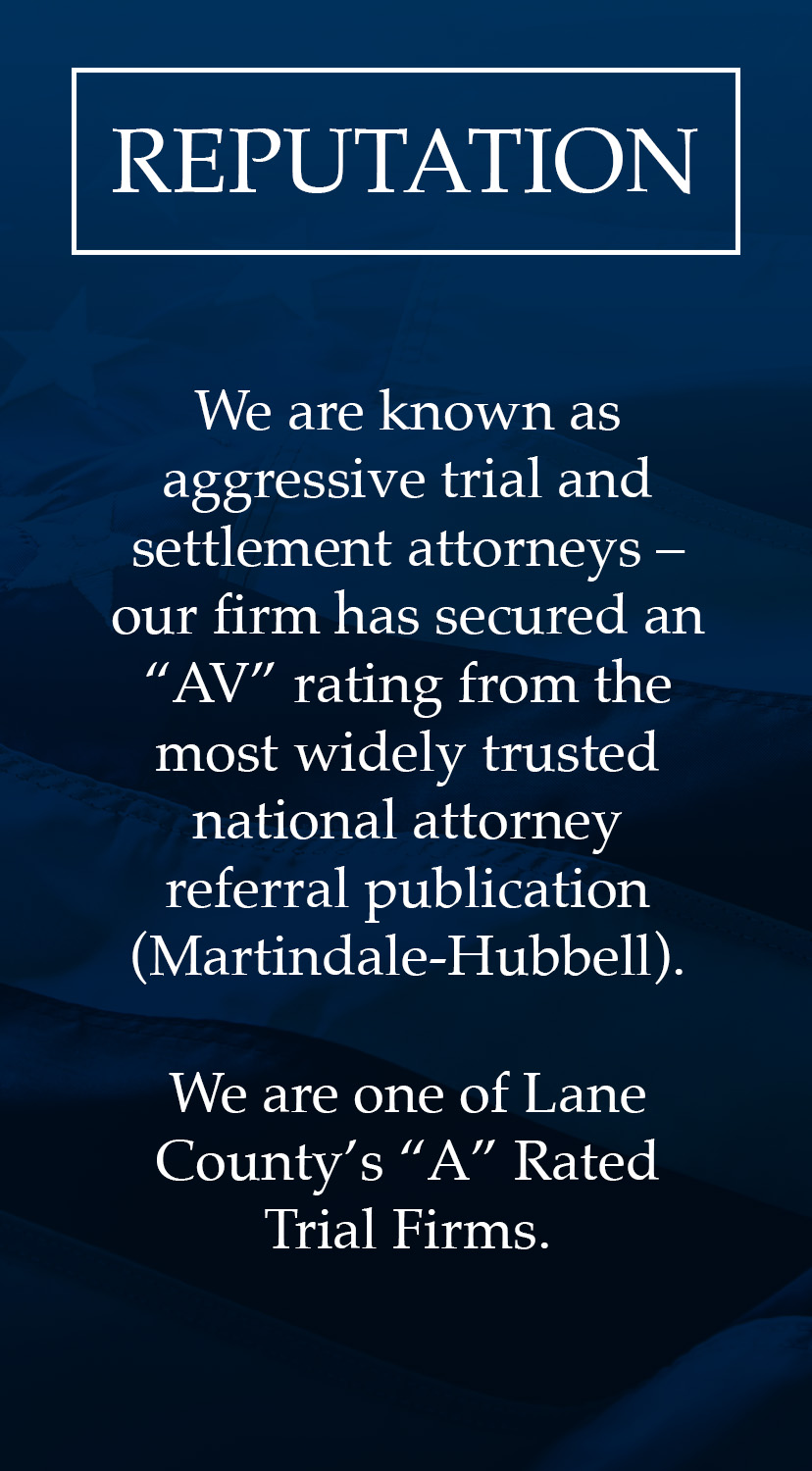 Mr. Veralrud handled my case with great care and skill. He obviously knows his way around a courtroom. He kept me informed and made some unexpected court appearances for me without extra charge. I'm very pleased and highly recommend him…read more →
I am writing today to share my experience with one of the finest attorneys I have ever met. I come from a long line of attorneys myself, so after a vicious dog attack that left me with a horrible injury…read more →
I have worked with Mr. Veralrud on a couple of occasions in which I needed legal counsel. Each time I found him to be extremely responsive, knowledgeable and detail oriented. He fully explained all of my options and delivered the…read more →

975 Oak Street, Suite 798